22. Beyond Borders (Scheduled release October 24, 2003)
Directed by: Martin Campbell


Click here to go to the Official site.
Drama/Romance

A tale of a romance, set across many years, between a medical student turned international disaster relief worker (Owen) and a philanthropist socialite, Sarah (Jolie). Their story sees them meeting again and again against the backdrops of disasters and wars.

21. Life, Or Something Like It (April 26, 2002)
Directed by: Stephen Herek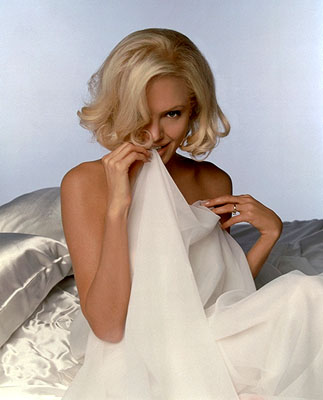 A reporter, Lanie Kerrigan (Jolie), interviews a psychic homeless man for a piece about a football game's score. Instead, he tells her that her life has no meaning, and is going to end in just a few days, which sparks her to action, trying to change the pattern of her life...
20. Original Sin (2001)
Directed by: Michael Cristofer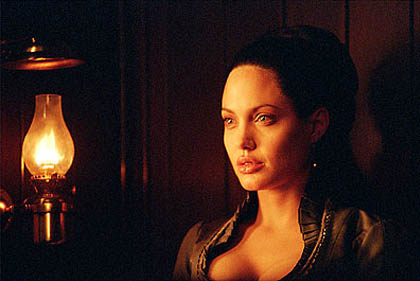 Drama and Thriller

A noir mystery set in the exotic world of Cuba in the late
1800s. Luis Antonio Vargas, a wealthy coffee merchant, arranges a marriage through the mail but discovers that the woman who arrives to share his house is an imposter with an eye on his fortune. When he arrives at the docks to meet Julia Russell, he is amazed to find that she is not the simple woman he was expecting. Though happier than he ever
imagined, the surprises continue until the story takes a fateful turn. This is the story about the dangerous and sometimes lethal power of love.
19. Tomb Raider (2001)
Directed by: Simon West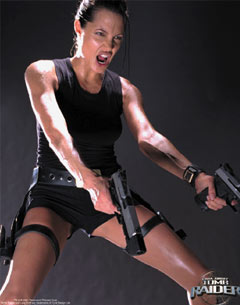 Action

Based on the popular video game of the same name, this film stars Angelina Jolie as Lara Croft - a tough, sexy, armed adventurer who was born into wealth and groomed at the most elite schools. She travels to dangerous and mysterious locales around the globe in search of rare, lost crypts and long-forgotten empires. She speaks numerous languages, is highly trained for combat and answers to no one, obeying only a desire for adventure.

But now she must face her greatest challenge yet: to find two halves of an ancient artifact buried in space and time. To possess it means ultimate power for its possessor. But to get there, she must first take on a powerful and dangerous
secret society. The fate of mankind rests in the hands of one Lara Croft.

18. Gone In 60 Seconds (2000)
Directed by: Dominic Sena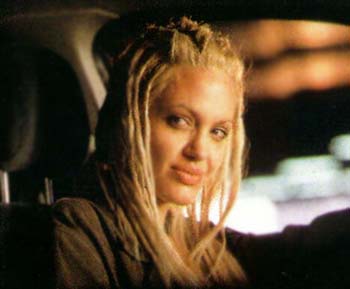 Action

Memphis Raines (Nicholas Cage) is a former car thief who is forced to come out of retirement when his younger brother, Kip (Giovanni Ribisi), is unable to deliver 50 expensive cars to dangerous smuggler Raymond Calitri (Christopher Eccleston). With his brother's life on the line, Memphis
must enlist his old car-stealing partners for help in order
to pull off the ultimate crime. His team includes his mentor, Otto (Robert Duvall), and an old flame (Angelina Jolie), plus a crew of other colorful characters. Once he gets them all together, Memphis has to do the impossible: organize the theft of 50 cars from all over Los Angeles in a single night, hampered by rivals, security systems, and the
best efforts of the LAPD detective (Delroy Lindo) who is out to get him. GONE IN 60 SECONDS is a fun, action-packed movie featuring producer Jerry Bruckheimer's trademarks: a simple, heartfelt story, comedy, spectacular action, an excellent
cast of stars and character actors, and an amazing car chase through the crowded streets of Los Angeles. This film is based on the cult classic 1974 movie of the same name, and it's a must-see for lovers of classic cars or action fans of any stripe. Dominic Sena, the director of KALIFORNIA, directed this fast-moving crime-adventure extravaganza.
17. AFI's 100 Years...100 Stars (1999) TV
Directed by: Gary Smith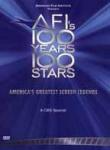 Originally broadcast on June 15, 1999, this CBS prime time
special presented the fifty greatest stars of the American
century of filmmaking. The chosen fifty are counted down by
fifty of today's most exciting actors and actresses. Jack
Lemmon makes a special appearance and Liza Minnelli sings
"Without You."
16. Girl, Interrupted (1999)
Directed by: James Mangold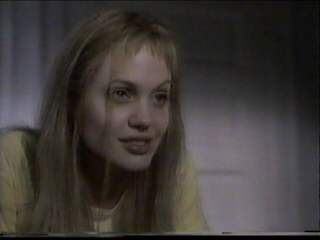 Drama

Adapted from Kaysen's popular memoir, GIRL, INTERRUPTED is handled with extreme sensitivity by director James Mangold (HEAVY, COPLAND.) Winona Ryder stars as Susana, a troubled teenager whose confused attempt at suicide lands her in a
mental hospital. Once there, she meets an odd assortment of characters, including Lisa (Angelina Jolie), who at first mesmerizes Susana with her uninhibited demeanor. The pair form a tight bond, but that connection is threatened when Lisa begins to spiral even further out of control. Ryder and Jolie's intense performances are just one of many reasons to watch this picture.

15. The Bone Collector (1999)
Directed by: Phillip Noyce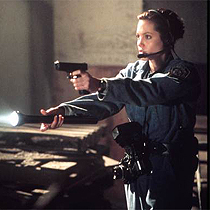 Thriller

Washington is Lincoln Rhyme, a successful police officer and author of crime novels. After a freak accident on the job, Rhyme is left paralyzed from the neck down (except for his index finger). Jolie is Amelia Donaghy, a troubled cop who finds herself caught up in the investigation of a brutal serial killer. With the help of the bed-ridden Rhyme, she enters a dangerous world that threatens to add her to the killer's list.
14. Pushing Tin (1999)
Directed by: Mike Newell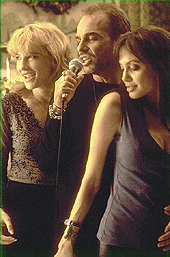 Comedy


Nick Falzone (John Cusack) is a confident, accomplished air traffic controller whose life is turned upside down when drifter Russell Bell (Billy Bob Thornton) joins his tight-knit work team and threatens to drive him insane. Stakes are high and pressure is constant in the world of air traffic control, making the line between excellence and failure dangerously thin. While jokes provide the team of controllers with an important release from their stressful occupation, a narrow division exists between teasing and animosity.

Mike Newell's careful research of the air traffic control profession, including its frequent emotional toll, lends a high level of realism to PUSHING TIN. Newell combines a depiction of the demandingly precise work done in air traffic control towers with an emotional portrait of the people charged with the safety of thousands of airline passengers and crew every day. The film also features the charming talents of Cate Blanchett and Angelina Jolie.

13. Playing By Heart (1998)
Directed by: Willard Carroll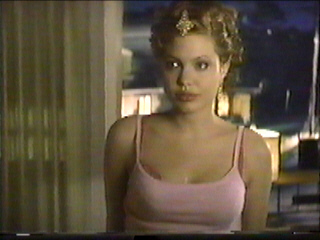 Drama


PLAYING BY HEART is a character-driven drama about the sometimes funny, sometimes painful (and always complex) ways love can touch your life. Set in Los Angeles, the film weaves in and out of the lives of a group of eleven people of varied generations and lifestyles, all of whom are experiencing love in one of its many maddening stages. Some people are finding it. Others are losing it. What they have in common is an intense desire to express how love makes them feel.


12. Hell's Kitchen (1998)
Directed by: Tony Ciniripini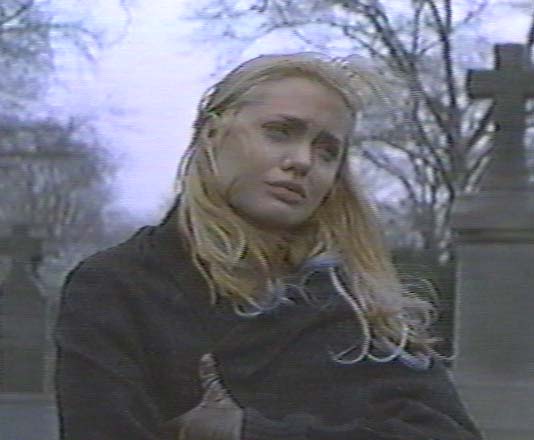 Drama

HELL'S KITCHEN tells the tragic story of a group of New York City youths whose involvement in a drug deal ends up ruining their lives. After the drug deal turns sour, one of them ends up dead. The remaining three individuals must confront what really happened and decide for themselves who is to blame. A dark tone and over-the-top melodrama highlight this gritty urban tale which features a good turn by Jolie.

11. Gia (1998) Made for HBO movie.
Directed by: Michael Cristofer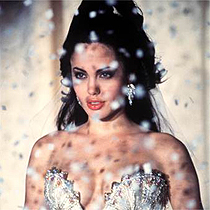 Drama

America's first supermodel Gia Carangi lives hard and dies young in the glamorous, excessive urban wilds of 1970s New York City. Adapted by Cristofer and novelist Jay McInerney from the biography "Thing of Beauty" by Stephen Fried. Made for HBO. Available in rated and unrated versions.

10. Playing God (1997)
Directed by: Andy Wilson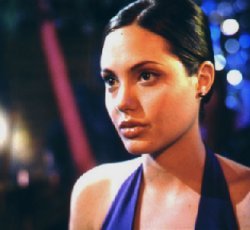 Drama

Drug-addled former surgeon Eugene Sands, languishing on skid row, attracts the attention of an underworld kingpin after performing impromptu surgery on a gunshot victim with bartender's utensils. Thereafter, Sands unwillingly becomes the kingpin's emergency medic of choice and soon finds himself over his head--and dangerously in love with the big boss' beautiful girlfriend.

9. George Wallace (1997) Made for TV movie.
Directed by: John Frankenheimer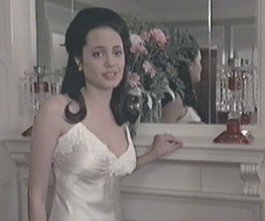 John Frankenheimer's made-for-television biopic stars Gary
Sinise as controversial politician George Wallace. The film
picks up Wallace's life in the mid-1950s when, as a circuit
court judge and protg of Governor 'Big Jim' Folsom's, he
hopes to succeed his mentor in the office. But when he runs
for governor in 1959, his denunciation of the Ku Kux Klan is
intrumental in his defeat. It spurs a decision to become a
staunch advocate of segregation, a position that finally wins him the 1963 Alabama gubernatorial race. His opposition to an integrated South continues in the celebrated "stand in the schoolhouse door" on June 11, 1963, as he tries to block the first two black students attempting to integrate the University of Alabama. Martin Luther King's Selma to Montgomery march, an effort to end voting-rights discrimination, leads Wallace to call out state troopers who use tear gas, billy clubs, and fire hoses on the marchers. After failing to get an amendment to the state constitution allowing him to seek a second term, Wallace supports his wife, Lurleen (Mare Winningham), to take his place. This surprisingly complex profile of a man justifiably vilified for his opposition to civil rights is driven home by Sinise's portrayal of the vulnerability beneath the more familiar public face.
8. True Women (1997) Made for TV movie.
Directed by: Karen Arthur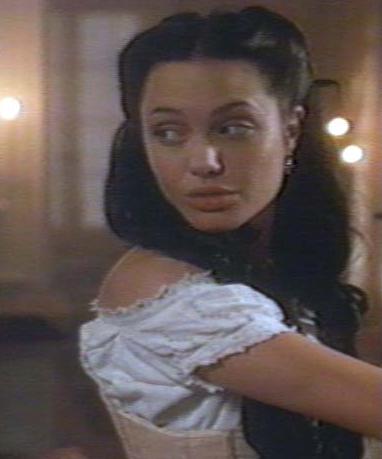 This epic, all-star miniseries presentation follows the plight of two childhood friends, who, now grown to adulthood in the Civil War era, defend their community and deal with the personal struggles associated with frontier life. Based on the novel by Janice Woods Windle.
7. Love Is All There Is (1996)
Directed by: Joseph Bologna, Rennee Taylor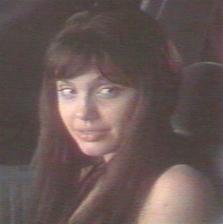 Comedy

Two rival Italian family restaurant owners in Bronx, New York have a lot of "bad blood" between them. Things only get worse when one of the family's son (Marston) and the other's
daughter (Jolie) become romantically involved. A modern-day loose adaptation of Shakespeare's "Romeo and Juliet."

6. Foxfire (1996)
Directed by: Annette Haywood-Carter
Drama

Spurred by an independent newcomer, four female high school seniors in Portland assault a sexually harrassing teacher. Their resulting suspension leaves them with plenty of time to affirm their unity as rebels, get tattoos, drink whiskey, and generally wreak havoc on the rest of the community. Adapted from a novel by Joyce Carol Oates.
5. Mojave Moon (1996)
Directed by: Kevin Arthur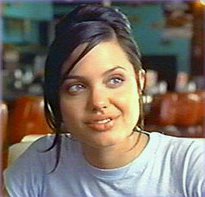 Drama

A graying, jaded car salesman impulsively volunteers to chauffeur a fresh-faced young beauty home to the Mojave Desert, hoping for a love match. What he finds instead is
romance with the girl's free-spirited mother.
4. Hackers (1995)
Directed by: Iain Softley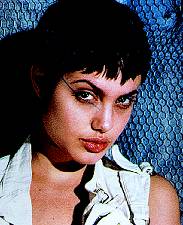 Drama

A young hacker prodigy meets other kids like himself when he and his mother move cross-country and settle in New York City. High school takes on a new light when Dade (Miller) meets a group of misfits and rich kids who hack into computer systems for fun. When one of their group is suddenly arrested, the others band together to take on a corporate hacker disguised as a security officer and attempt to bring down his devious and diabolical plans.

3. Without Evidence (1995)
Directed by: Gill Dennis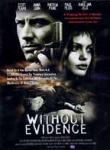 Based on the true story of Michael Franke, the murdered Head of Corrections for the state of Oregon, WITHOUT LIMITS is a truly unsettling conspiracy film with a pre-GIA supporting performance from Jolie. Just before his murder outside a Pacific Northwest office building, Franke visits his brother and informs him of a drug ring involving his prison colleagues. When Michael is killed, his brother begins his own investigation into the murder, only to be caught in a web of lies.

2. Cyborg 2 (1993)
Directed by: Michael Schroeder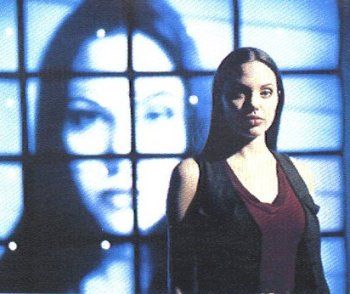 Science Fiction/Fantasy

A beautiful new Cyborg has been created with a deadly device that can destroy the only hope of mankind. A renegade Cyborg and a human combat instructor who has fallen in love with her, do everything they can to save her and destroy the Cyborg factory before the human race is enslaved forever.
1. Lookin' To Get Out (1982)
Directed by: Hal Ashby