News
October 22, 2004
Evanescence has a new DVD/CD set coming out soon. It is titled "anywhere but home". It will be in stores November 23, 2004. Be sure to go out and buy it!
Also...
Evanescence has been nominated in the "Favorite Band, Duo, or Group - Pop Rock" category for the 2004 American Music Awards.
The AMA's air November 14, 2004 @ 8 p.m. ET.
August 5, 2004
Amy Lee just did a call in interview from Atlanta, GA on Z100 radio in New York.
I was able to get the audio for this. Check out the audio file link below.
May 14, 2004
You can now watch Evanescence's new video for "Everybody's Fool" at Launch.com. Go check it out, it's a really good video!
April 22, 2004
You can order Evanescence merchandise at there official website (Evanescence.com). Today they have new products available. New posters and Shirts!!! Go buy them!!!
Also, at launch.com you can watch the new "Broken" video by Seether featuring Amy Lee. There is also a behind the scenes video as well.
March 25, 2004
On March 23, 2004, the soundtrack to the movie "The Punisher" was released in stores. Amy Lee is a guest vocalist on Seether's new recording of "Broken" which appears on the soundtrack. It is a great song and Amy sounds amazing as always.
So go buy the soundtrack today!!!
January 20, 2004
Evanescence Names Permanent Guitarist
(LAUNCH, 01/19/2004 6:00:00PM)

By LAUNCH Radio Networks

Evanescence lead singer Amy Lee has told Australia's
UndercoverNews website that former Cold guitarist Terry Balsamo is now a permanent member of Evanescence.
Balsamo stepped in as a temporary replacement late last year for founding axeman Ben Moody, who abruptly departed in the middle of a European tour last October. Lee said that Balsamo and her band "just clicked" the more they played together. "[It is] better than I ever expected...Terry's an insane guitar player with awesome stage presence. He has a good personality and he's down to earth and on top of all that stuff, he's a great writer and he's done a lot of great writing. I didn't really realize when we first brought him into the band, so all around, Terry is one of the best decisions we've made."


Lee said that the move means Balsamo's former band, Cold, is probably finished. "They could hire another guitar player and continue, but I'm pretty sure that their lead
singer (Scooter Ward) is in and out of rehab and having real problems. He has been for a long time and I don't think they're going to be making another record. Terry was in a situation also where their band was very unhappy, so I think we came together on a common ground."


Lee added that she was unsure if the hiring of Balsamo had created bad feelings between the two bands. "I haven't talked to them. We all went on tour together in the States, which is funny, that's how we met. Scooter, the lead singer, was really hurting, it was not good, but the rest of the guys in the band are really awesome...I don't think there is any sore feelings, I think they were all pretty sick of the situation in their band."


A spokesman for Cold's management told LAUNCH, "Cold is NOT over. Look for a new single soon." Cold's latest album, Year Of The Spider, came out in 2003 and featured the Modern Rock hit, "Stupid Girl."


Evanescence kicks off a U.S. tour on February 11 in Los Angeles, before settling down to write their second album. Ex-Limp Bizkit axeman Wes Borland has also reportedly been working with Lee on new material.
January 12, 2004
EVANESCENCE Singer Confirms Possible Collaboration With Ex-LIMP BIZKIT Guitarist - Jan. 10, 2004
EVANESCENCE singer Amy Lee has confirmed that the band are contemplating the possibility of working with former LIMP BIZKIT guitarist Wes Borland on the follow-up to the triple-platinum "Fallen", tentatively due in 2005 through Wind-Up Records. "Wes is a friend and we're talking about writing together on the next record," Lee told Australia's The Age. "But we'll see."
2003 ended on a sour note for EVANESCENCE when founding member and Lee's co-writer Ben Moody abruptly left the band in October, mid-way through a European tour.
"It's actually been a relief," said Lee of the departure of her childhood friend. "I don't mean that as a negative toward Ben, but we've all been through a lot and we were at breaking point. And the thing is, we'd got to a point that if something didn't change, we wouldn't have been able to make a second record.
Asked if she is apprehensive about penning another EVANESCENCE album sans Moody, Lee got a little bristly.
"I've always written by myself, even when Ben was in the band," she said. "We wrote separately. I'd write my songs and he'd write his and then we'd add things to each other's."
For now, though, one-time COLD guitarist Terry Balsamo has slotted in for the band's Australian tour, which sees them playing Brisbane tonight (Jan. 10) and Sydney tomorrow (Jan. 11). And for Lee, things are just perfect again.
"We're finally a real band, not just Ben and I and a few others thrown together," she said.
The first show we played without Ben was sort of strange and weird and highly stressful. But when it was over, we had a really big party because we just felt this huge sense of relief that we could do it without him.
"And it wasn't the end of the world and our lives would continue. Nobody died, y'know."
December 16, 2003
Amy Lee is on the cover of Metal Edge magazine (Feb. ' 04 issue). There is also an interview on pages 20 - 24.
December 13, 2003
Today Amy Lee turns 22 years old. Happy Birthday Amy!!!
December 11, 2003
Last night, Evanescence won two awards and performed "Bring Me To Life" at the 2003 Billboard Music Awards.
Here are a few pictures from the show, enjoy :) I'll try to find more!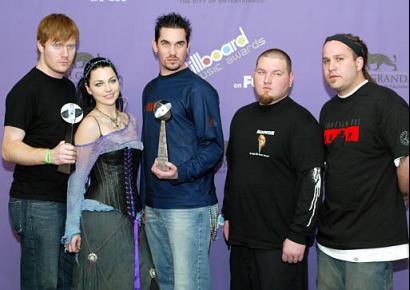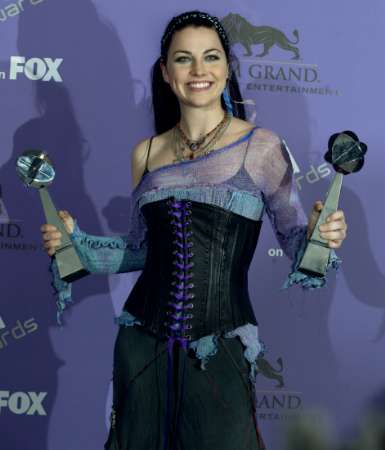 December 4, 2003
The 2003 Grammy Nominations were announced today. And if you missed it on TV that's a bummer cause Amy Lee was one of the announcers.
Evanescence received 5 Grammy Nominations for Album of the Year, Best New Artist, Best Rock Album, Best Hard Rock Performance - ("Bring Me To Life") and Best Rock Song - ("Bring Me to Life")!
The Grammy Awards air February 8th, 2004 on CBS so be sure to tune in.
November 7, 2003
You can now watch the new video for "My Immortal" online on aol. Amy looks so beautiful in the video. And I love the new version of this song.
I will post a better link as soon as one becomes available. I only have the direct streaming link, which is below. You will probably have to copy and paste it line by line into your browser for it to work.
rtsp://demand1.stream.aol.com:554/aol/us/aolmusic/artists/
windup/evanescence/evanescence_myimmortal_10_nb.rm?cloakport=80,554,7070
November 6, 2003
Here's a list of magazines I've found Evanescence in this month. Enjoy!
--Metal Edge (December 2003) There is a 20" x 30 " poster of Amy Lee. I've already got mine framed :)
--Circus (?November? 2003) page 3. Full page photo of the whole band.
--Q (November 2003) Published in the UK, but I found it in the US at Borders. Full page Q & A with Amy Lee with a photo.
--Rock Sound (November 2003) Published in the UK, but I found it in the US at Borders. Two page pull out poster of Amy Lee and Ben Moody.
Smaller picture of 2 pg. pull out from Rock Sound.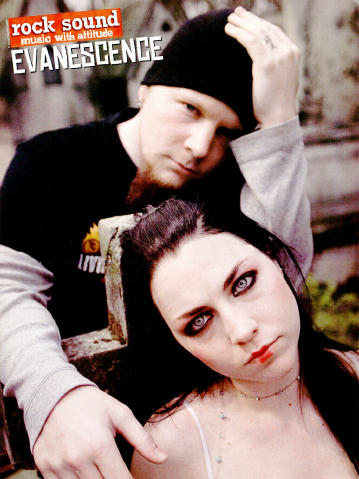 November 4, 2003
This next paragraph is from an Evanescence E-Newsletter i just received.
"Ben Moody has left the Evanescence tour and returned home. The band will continue touring without Ben and have brought in a guitarist to fill the spot. The tour will continue as planned when the band returns to the States. Please stay tuned to
evanescence.com
for additional information and updates as they're available."
This next part is from MTV.com.
Evanescence Co-Founder Ben Moody Leaves Band During Tour
11.03.2003 1:55 PM EST

Early last month, Evanescence headed for Lisbon, Portugal, with spirits soaring. They were stoked about their successful European tour and excited to shoot a video for "My Immortal" in Barcelona on October 10. About two weeks later the bubble burst.

On the morning of an October 24 show in Berlin, guitarist and songwriter Ben Moody packed up his gear and flew home, the band's manager said without giving a reason for the departure. Moody co-founded the band with singer Amy Lee in the late '90s.

Shortly after Moody split, Lee told the British magazine Rock Sound, "You don't do that to your band. You wouldn't do that to your friends or your family. You don't do that to anyone."

Moody's future with Evanescence is unclear, their manager said, and the band has continued its tour with second guitarist John LeCompt handling all six-string duties.

It wasn't the first time this year Moody had problems in Deutschland. In June the group canceled a string of German shows because the guitarist fell ill. Lee first spoke about Moody's departure at a concert last week in Manchester, England. "Ben flew home, but we didn't want to let it cancel the tour again," she said, according to Rock Sound.

Evanescence's European tour runs through November 10 in London. The band will launch a North American tour on November 19 in Mexico City. Dates run through December 14 in Mississauga, Ontario. Three weeks later, the band will begin a tour of New Zealand, Australia and Japan.
October 27, 2003
Evanescence was named Best International New Artist at the MTV Latin Awards.
Also, their album "FALLEN" has been certified Triple Platinum.
October 21, 2003
"Going Under" is up for Circus Magazine's Top Ten Rock Track.
Please check out this link and VOTE every day!
October 20, 2003
YAYYYY!!! If you can't tell, I'm very happy. Why you may ask? Well, I just found out that Evanescence will be one of the performers at the American Music Awards. It airs, Sunday, November 16, 2003 @ 8 p.m. YAYYY!!!
October 15, 2003
Evanescence is featured on Live at Launch - check out an exclusive band interview and acoustic version of "Going Under" .
You can also enter a contest to win a trip to see them in concert in LA!
October 2, 2003
Evanescence was nominated for 3 MTV Europe Awards for "Best Group," "Best New Act," and "Best Song" for "Bring Me To Life."
September 30, 2003
Check out these magazines at your local bookstore.
Teen People - October '03 -pg. 61
Circus - October '03 -pg. 38 (full page photo of Amy Lee)
September 27, 2003
Amy Lee might be on the cover of the next issue of YM Magazine (December 2003?). There was recently a poll on the YM website, and the last I saw, she was in the lead. I can't wait to see it. I'll be sure to post here when I find out for sure.
September 20, 2003
Evanescence was nominated for an American Music Award in the Favorite Album-Pop or Rock N Roll category. The 2003 AMA's air on ABC, November 16, 2003 @ 8 p.m.
September 19, 2003
Be sure to check out the October '03 issue of Blender Magazine. Evanescence is on pages 111 & 144. Included is an article and 3 photos of Amy Lee from their concert at The House Of Blues, Las Vegas.
Below is 1 of the photos :)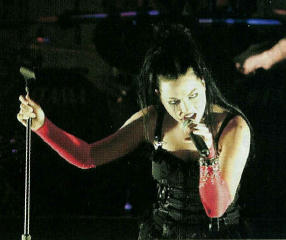 September 13, 2003
Be sure to pick up the November '03 issue of "Metal Edge" magazine. There is an awesome full page picture of Amy Lee on page 1.
September 12, 2003
Click here to vote for the Evanescence video "Going Under" on MTV TRL.
September 11, 2003
If you missed Amy & Ben's acoustic performance of "BMTL" & "Going Under" from 8-28-03 on K-Rock radio station, check out the link below. There's also a few pictures in the photos section.
Click here to go to K-Rock's website.
September 11, 2003
Go here to watch "BMTL" & "Going Under" from MTV's Hard Rock Live performance!
September 7, 2003
Go here to vote for Evanescence at the BBCi website!!!
September 7, 2003
Here's a list of magazines that I've seen that Evanescence is in that are currently in stores.
Teen People-September '03 pgs. 42, 98, & 100
Guitar World-October '03 pgs. 52-54
Circus-September '03 pg. 57 (full page picture of Amy Lee)
Hit Parader-September '03 pgs. 54-55 (article & full page picture of Amy Lee)
Guitar World Acoustic-#64 pg. 85 (BMTL acoustic arrangement)
Revolver-September '03 Cover & pgs. 68-77
September 5, 2003
Check out the link below for Fox All Access radio interview that Amy Lee did. It is airing Sunday, September 7, 2003. As of 9-12-03, Amy's interview still isn't in their archives, but keep checking, they should put it up eventually.
September 5, 2003
Check out the link below for a 4:42 long video clip of the making of the "Going Under" video. Also available at this link is the "Going Under" and "Bring Me To Life" videos.