June 8, 2004
There is going to be a new show on VH1 called "The Fabulous Life of Angelina Jolie." It will be premiering June 16, 2004.
March 15, 2004
Angie's online journal is now online from her visit to Jordan refugee camps in December 2003.
March 15, 2004
Here are a few more TV appearance dates.
March 16, 2004 - Today Show
March 19, 2004 - The View
March 10, 2004
Angie is making ALOT of TV appearances in the next week or so. Here's a list of some of them.
??March 15, 2004 - MTV TRL ???
March 16, 2004 - Jay Leno
March 17, 2004 - Ellen Degeneres
March 18, 2004 - Carson Daly
March 22 & March 23, 2004 - MAD TV
Also keep an eye out on the BRAVO channel, I heard that they will be airing "Making of 'Taking Lives' " but I haven't seen it on their website schedule.
February 18, 2004
Angie is on the cover of the March 2004 issue of GQ magazine. In the issue, there are a bunch of amazing pictures. So, hurry...go buy the magazine!
Here's a peak at the cover!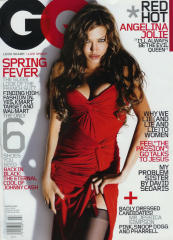 October 2, 2003
Angie is on the cover of the November '03 issue of Marie Claire, which also includes a 3 page article.
Angie is also on the October '03 (?) issue of Redbook.
Below is a picture of the Redbook cover.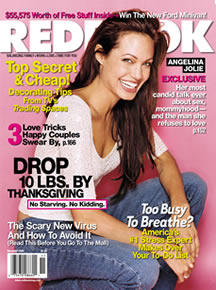 September 3, 2003
Angie is in People magazine (9-8-03 issue) on page 11.
August 2, 2003
Angie is in the August 11 issues of In Touch and US Weekly magazines. In Touch magazine - 2 page article on pages 70 and 71. Us weekly - pg 23 and pg 40.
Angie's on the cover of People magazine, August 4, 2003 Issue -Cover Story (And Baby Makes Two).
April 21, 2003
During April 14-20, UNHCR Goodwill Ambassador Angelina Jolie had the opportunity to visit Sri Lanka and assess the needs of the country as it recovers from 20 years of war.

For seven days she met with refugees, internally displace persons, and others affected by war, as they begin to rebuild their lives. Ms. Jolie is scheduled to appear this Wednesday (April 23) on the Oprah Winfrey show, and may discuss her work on behalf of UNHCR.

Ms. Jolie visited the district of Killnochchi and spoke with returned refugee families. She visited the Jaffna Social Action Centre, which is supported by UNHCR and offers pre-school and playroom facilities as well as skills training for single mothers. Ms. Jolie also traveled to the Mullaitivu district where she visited a school for blind and deaf children.
In addition, in the town of Point Pedro in the north, she met and spoke with a group of former refugees and displaced persons. Here she toured the Valvedditturai hospital, which has 88 beds and only one physician, Dr.Mylerumperilman, who treats an average of 85 patients per day. Ms. Jolie made a long-term commitment to help rehabilitate the facility's pediatric ward. Following her trip, Ms. Jolie called on the international community to become more heavily involved in the post-war needs of Sri Lanka.



April 18, 2003
Angelina Jolie said she'll donate $10,000 to help a children's hospital in northern Sri Lanka.
Jolie, a goodwill ambassador for the U.N.'s refugee agency, said Wednesday April 16th, she was saddened after listening to a group of 500 orphan girls affected by the war between Sri Lanka's government and the Liberation Tigers of Tamileelam.
The 27-year-old actress said she's making the donation to help rebuild the pediatric ward in a hospital in Jaffna, an area that was the center of the two decades-long civil war.
The government and rebels signed a cease-fire in February 2002. A series of peace talks since September have raised hope that the war, which has killed 65,000 people, may be ended.
Jolie won a supporting-actress Oscar for 1999's "Girl, Interrupted." Her upcoming films include "Lara Croft Tomb Raider: The Cradle of Life" and "Sharkslayer."
November 29, 2002
Angie donated money to the hospital that treated her son for burns.
Click here to read the whole story.
November 22, 2002
During June 6-9, 2002, Angelina Jolie traveled at her own expense to Ecuador, where she was able to work with UNHCR staff managing the refugee outflow from Colombia.
Angie's journal of her personal reflections about what she saw, and the work of the UNHCR, in this emerging crisis are online at the UNHCR website.
Click here for information regarding Angie's Ecuador journal.
October 25, 2002
On October 21, 2002 Angelina did an online chat regarding UNHCR issues. GO READ HER INTERVIEW!!!
Click here to read AJ's online chat.
September 28, 2002
Angie's Son Released From Hospital
Maddox was discharged from a Liverpool hospital on Friday, September 20, 2002 after three days of treatment for an undisclosed minor injury, a spokeswoman for the actress said.
Maddox Jolie was admitted to the Alder Hey Hospital in Liverpool, northwest England on Tuesday, September 17, 2002 after suffering what the hospital described as a very minor injury.
The 27-year-old actress gave her thanks to all the hospital staff for caring for the baby, the spokeswoman said, but no details of the boy's injury were released.
September 19, 2002
Angelina Jolie is in negotiations and Ethan Hawke is in talks to star in Warner Bros. Pictures/Village Roadshow Pictures' "Taking Lives." There is no director or start date as of yet. Jolie's announcement had been expected, with the project marking the first time the actress would be working with Warners Bros. Based on the book by British author Michael Pye, "Lives" is the story of a female FBI profiler who must bring in a serial killer who has spent 20 years assuming the identities of the people he has killed.
September 16, 2002
Angelina donated $100,000 on September 13th for urgently needed food and other aid for Western Saharan refugees.
February 27, 2002
On 2-26-02 Angie was on the TNT Tribute to Nicholas Cage special.
Below is a screen capture I did and also a .wav file of her short speech.
Click here to download the .wav file of Angie's speech.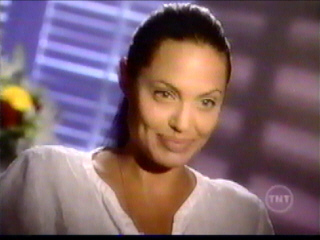 August 27, 2001
Angie is honored at a ceremony in Geneva, becoming the official Goodwill Ambassador for UNHCR.